New Hampshire Sunday News - September, 2002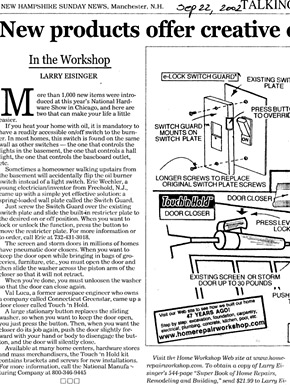 New products offer creative convenience
In the Workshop
By Larry Eisinger
More than a 1,000 new items were introduced at this year's National Harware Show in Chicago, and here are two that can make your live a little easier.
If you heat your home with oil, it is mandatory to have a readily accessible on/off switch to the burner. In most homes, this switch is found on the same wall as other switches - the one that controls the lights in the basement, the one that controls a hall light, the one that controls the baseboard oulet, etc.
Sometimes a homeowner walking upstairs from the basement will accidentally flip the oil burner switch instead of a light switch. Eric Wechler, a young electrician/inventor from Frechold, N.J., came up with a simple yet effective solution: a spring-loaded wall plate called the Switch Guard.
Just screw the Switch Guard over the existing switch plate and slide the built-in restricter plate to the desired on or off position. When you want to lock or unlock the function, press the button to move the restricter plate. For more information or to order, call Eric at 732-431-3018.
The screen and storm doors in millions of homes have pneumatic door closers. When you want to keep the door open while bringing in bags of groceries, furniture, etc., you must open the door and then slide the washer across the piston arm of the closer so that it will not retract.
When you're done, you must unloosen the washer so that the door can close again.
Val Luca, a former aerospace engineer who owns a company called Connecticut Greenstar, came up with a door closer called Touch 'n Hold.
A large stationary button replaces the sliding washer, so when you want to keep the door open, you just press the button. Then, when you want the closer to do its job again, push the door slightly forward with your hand or body to disengage the button, and the door will silently close.
Available at many home centers, hardware stores and mass merchandisers, the Touch 'n Hold kit contains brackets and screws for new installations. For more information, call the National Manufacturing Company at 800-346-9445.