Greenstar Team
Valentin Luca
President, Inventor Extraordinaire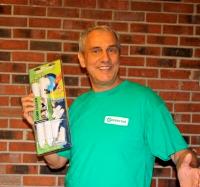 Val is the Inventor, Creator, Owner, President and all around everything for Connecticut Greenstar, the company that brings you the Touch n' Hold door closer.  He first imagined the Touch n' Hold, as a new imm
igrant to the US, when his little girl kept pinching her little fingers in their old screen door closer.  He made a promise to himself that when he had the chance, he would rid the world of such an archaic design and vanquish pinched fingers and achy backs everywhere.  He had plenty of knowhow to do such a thing.  Val worked for over twenty years throughout Romania, Austria and the United States as an aviation engineer specializing in propulsion systems before starting his own two businesses in 1997: Connecticut Greenstar and Connecticut Manufacturing Company (CMC).  CMC specializes in precision turned parts and assemblies for customers including Boeing and Airbus.  The company has maintained a "zero defects" record for nearly a decade and can produce pieces with precision tolerances to within +/- 2
5 millionth of an inch.
Val is dedicated to quality and took this same expertise and experience when he began CT Greenstar and designed the Touch n' Hold door closer.  He created a product that is unmatched in both quality and convenience.   With this kind of background, you can expect the best and Greenstar's goal is to give you the best.   Future Greenstar products can also be expected to be of the highest quality.
Val graduated in 1976 with a B.A. and M.A. in Aeronautical Engineering from the Bucharest Polytechnic Institute.  He fled communist Romania in 1987 just weeks before presenting his doc
toral dissertation on Jet Engine Generated Air Pollution; so you can call him Doctor Luca if you want.  In the United States, he has furthered his education by earning an MBA from Sacred Heart University in 1992.  That same year he completed his Professional Engineer and Professional Manager licensing exams.  He has worked as Chief Engineer and Product Developer for several companies including Hoffman and Textron Lycoming.  He puts absurd amounts of both hot sauce and pepper on everything he eats, is married to his middle school sweetheart, and has one daughter and two dogs.
Nate Lawrie
Director of Marketing and Business Development

Nate has worked in a consulting role for the company for years, mainly focusing on marketing and strategy development.  Recently Nate took over the reigns as the Directror of Business Development, running the day-to-day operations for Greenstar and tirelessly working to free the world from inconvenient door closers. Nate brings the energy and focus that allowed him to play 8 years of professional football in both the NFL and UFL to the task.  In the past Nate headed the in-house marketing initiative dubbed "Greenstar Productions" and churned out the now famous Touch 'n Hold mini-series starring himself (as Tim Touch) and former Director Dan Thompson (as Hank Hold).  These videos can be seen around the world via YouTube as well as right here on our own site.
Nate graduated with a B.A. in Political Science from Yale University in 2004 and has completed executive business training programs at both The Wharton and Kellogg Schools of Business.
Smaranda Lawrie
Director of Marketing and Business Strategy

Smaranda has been with the company for many years in various positions.  In her current (and favorite) role as director of marketing, Smaranda is trying to incorporate social media and video as part of Greenstar's new marketing campaign.
Smaranda graduated from Yale University in 2004 with degrees in Economics and Psychology.  She also holds a Masters Degree in International Affairs and Development from the University of Pennsylvania (2008).  Her husband's football career (which for those who don't know involves a very nomadic lifestyle) has also taken her to PBS in Tampa, Covenant House in New Orleans, and Merrill Lynch in Cincinnati.
Support Team- Engineering Specialists

Mihai Heinrich
Engineer, Quality Control
Mihai "Hi" Heinrich brings more than 35 years of engineering and development experience to the Greenstar team.  He works closely with president Val Luca to make sure the Greenstar products are of the highest quality.   Mihai is involved in engineering, prototyping, and quality control.  He worked for Romanian company Compa from 1973 until 1998 where he started as a member of the Development Department for truck and bus steering gears and worked his way up to Factory Director.  Since 1998 he has worked with Greenstar and has helped ensure that the Touch 'n Hold is the most convenient closer out there.
Mr. Ionascu
Formerly- Engineer, Machining

A man that garnered so much respect, he was strictly referred to as Mister. Mr Ionascu has now passed on to the great engineering department in the sky, but for over five decades he specialized  in engineering aviation hydraulics, especially flight controls and landing gears.  He brought the same passion for engineering to our door closers and was a key developer of our IK technology and we will forever be grateful.
Ovidiu Florea
Engineer, Prototyping & Testing

Like so many of us, Oliviu comes from an aviation background. Before joining our team, he worked as a specialist focusing on aeronautical mechanics.  He assists us with prototyping and testing our closers.  When not at work, he enjoys flying... a lot.
Support Team- Security
Ella & Studer Luca
Greenstar Headquarters Security Detail

This day and age requires corporations to take a hard & fast look at the security of their premises.  Greenstar is fortunate to employ two of the top security guards in the world.
Ella & Studer patrol the grounds of Greenstar headquarters like Special Ops Commandos.  Stealth like, they hide in the bushes, dig foxholes, and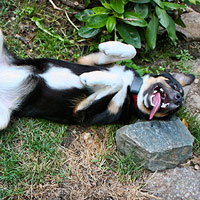 string their leash lines about like trip wire. These two have the Greenstar grounds on lockdown (despite occasionally getting distracted by squeaky toys and squirrels).  If you have a meeting at Greenstar, a treat is suggested or you may not be on the list.  When Ella was asked about her philosophy on security detail, she simply sat down and gave a paw.
Contact Us:
Phone: 1-866-842-5673
Email: Info@TouchnHoldDoorClosers.com